B & G Autotechs - Car Service Near You
Tailored car services for every driver in Oldham
Here at B & G Autotechs, we combine manufacturers' recommendations with an industry-approved programme to deliver the best possible car service near you! You know your car best, so don't hesitate to let us know about any suggestions you might have to help us improve your vehicle. We're passionate about communication, so we'll keep you informed every step of the way and discuss any additional repairs with you before we begin the work. That way, you're always in control and your car service appointment fits your needs perfectly.
Top-quality work and convenience delivered every time
Everything we do is designed to provide the best care for you and your vehicle throughout your time in our Oldham garage. That's why we offer a 12-month warranty on all parts and labour, so your car service will last, and the same fault won't keep cropping up. On top of that, we offer free vehicle collection and delivery to the local area so you don't need to put your life on hold - although you're always more than welcome to enjoy refreshments in our comfortable waiting room and watch our expert mechanics at work! If you need any of our additional services, just let us know when you make your booking.
We've got a car service for every vehicle in Oldham
No matter when your last car service was, we've got the perfect one for you! We offer interim, full and major services with prices starting from just £82, so you don't have to pay over the odds ever again. For best results, we recommend booking an interim service every six months or six-thousand miles, a full service every twelve months or twelve-thousand miles and a major service every two years or twenty-four thousand miles, whichever comes first. That way, your car will always be as roadworthy as possible and in its best condition.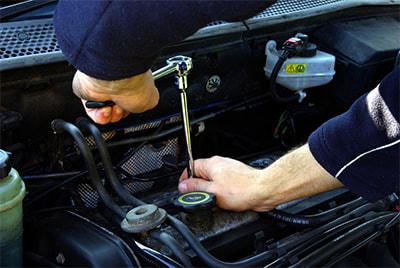 Easy online booking for your appointment
It's never been easier to book a car service near you than with our online booking tool. It's available 24/7 and all you need to do is enter your registration number, what servicing option you require and when you'd like your appointment to be for a call back from a member of our team. That's all there is to it! Once we've confirmed your appointment, you just need to turn up on the day. What's more, we'll only ever ask for you to pay for your appointment after all the work has been completed, so you'll always know exactly what you're paying for.
How to Book Online