B & G Autotechs - MOT Near You
High-quality MOT's delivered in Oldham
We're a well-established, highly experienced independent garage in Oldham who have delivered countless MOT tests to the community &#x2013 and we're not planning on stopping any time soon. We're only happy with perfection, so perfection is what you'll always receive. That's guaranteed through our 12-month warranty on all parts and labour we provide and our status as an IMI and RMI registered garage. With B & G Autotechs, you'll never receive anything less than a first-class MOT near you.
We pride ourselves on our customer-focused MOT's
That includes our customer service as well. You're always our priority, which is why we do everything we can to improve your MOT experience in Oldham. If you can't take advantage of our 'MOT while you wait' scheme thanks to our comfortable waiting room and free refreshments, then we offer free local collection and delivery of your vehicle to help keep your life on track. If you would benefit from this service, just let us know when you make your booking. On top of that, if there's anything you need during your MOT in Oldham, just ask our friendly team!
Trust us to make sure your car is in its best shape
An MOT test is a legal requirement but also a great way of measuring the quality and roadworthiness of your car. If we notice anything that we're not happy with when we inspect your car against DVSA (Driver and Vehicle Standards Agency) guidelines, we'll let you know and offer a suitable repair plan to rectify the problem. Once we've completed your MOT test or retest, your car will be ready to tackle the roads of Oldham once again. And, because we only ever find faults that need fixing rather than ones that will make us money, you'll never be without your car longer than necessary. Why not book an MOT near you with B & G Autotechs today?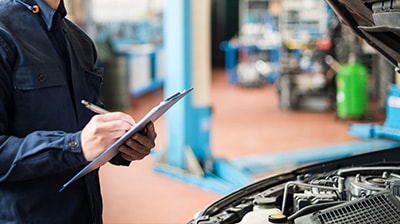 Book your next MOT and service in Oldham online!
Book your next MOT online with a great garage near you It's never been easier to book an MOT near you thanks to our easy-to-use online booking tool. Simply enter your registration number and when you'd like your appointment to be, 24/7, 365 days a year. After that, we'll be in touch to confirm your appointment and sort all the details out. What's more, you'll never pay a penny until after all the work has been completed, so you always know exactly what you're paying for with B & G Autotechs.
How to Book Online