B & G Autotechs - Car Air Conditioning Service
Here's when to book your car's next air conditioning service
It's important to book an air conditioning service for your car at least once every two years. This is because up to 10% of your refrigerant gas escapes the system each year &#x2013 refrigerant gas it can't function without. If you notice your system struggling to produce cold air, only warm air being produced or a strange smell when you switch it on, you should book an air conditioning service with B & G Autotechs today.
The importance of a high-quality service
Not only is your air conditioning system important during the summer, it demists your windscreen and filters dust and pollen out of the cabin during the winter as well. This means you need to be able to rely on it all year long, so the care it receives needs to be top-class. Here at our garage in Oldham, we conduct thorough car air conditioning services including a full inspection for any cracks, leaks or other damage before refilling your system with refrigerant gas. That way, you'll receive the best quality service and trust your air con once again.
You're at the heart of everything we do
We won't be beaten on price when it comes to air conditioning servicing in Oldham! Our prices are some of the most affordable around and your convenience is our main priority. While you're more than welcome to relax in our onsite waiting room and enjoy refreshments while we complete your car air conditioning service, we also offer free local collection and delivery of your vehicle. If this is easier for you, just let us know when you make your booking and we'll help keep your life moving!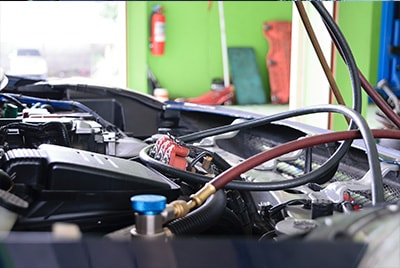 Book your car air conditioning service online today!
We extend our commitment to your convenience to the booking process as well. Our online booking tool is quick, simple and completely free to use, as well as being available 24/7, 365 days a year so you can book whenever is best for you. Just enter your registration number and when you'd like your car air conditioning service to be to receive a call back from a member of our friendly team. When we get in contact with you, we'll confirm your appointment and sort out all the details, except one. You'll never have to pay a penny until after all the work has been completed, so we won't ask for your payment details until we need them.
How to Book Online